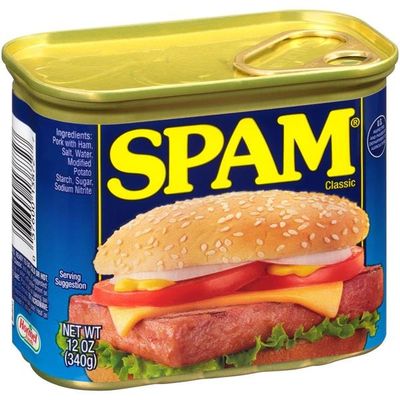 About a year ago is when the shelves at the grocery store looked unattended, when actually there were shortages. There were either shortages of people being able to put items on the shelves, quickly enough, or shortages of people being able to process food and many other reasons. There were only a few times I had to substitute something with another item. It's nice to see the shelves filling up at the store now.
Imagine my surprise this week, when I walked down the canned meat aisle and couldn't find Spam. All the other shelves were pretty well attended, except for where the Spam usually sits. There were some cans of turkey Spam and Spam with Bacon, but that's not the classic Spam we usually pick up about once or twice a year.
We checked another store – no Spam. When I went in search of Spam on the Internet, I learned there's a shortage due to the pandemic. Demand is very high. Right when I was appreciating fuller shelves, Spam went missing. There is obviously no replacement for Spam. Thankfully, when we checked Target, we found three cans and we happily purchased one. My husband likes to make what he calls "Spams." Here's the recipe:
Spams
1-12 ounce can of classic Spam
1-8 ounce brick of cheddar cheese, mild (use about 3/4 of a brick)
1 medium yellow onion
1/2 to 3/4 cup mayo or Miracle Whip
1 dozen hamburger buns
Meat grinder

Cut the Spam, brick of cheese, and onion in quarters and alternately rotate through meat grinder into a large bowl. After the mixture is ground together, stir to mix, and add enough mayo until it sticks together well, but don't overdo it. Spoon mixture to cover an open faced bun. Place open faced bun face side up under broiler and broil until cheese is melted. Make as many as you want. Store unused portion of Spams in the refrigerator. Use up leftovers within three days.
Lila loves the crumbs that fall to the floor, which happens during preparation. A little taste for dogs is okay, but I wouldn't give Lila a bunch. That could lead to disastrous consequences.
My husband's mom made these when her kids were younger and now my husband is carrying on the tradition. Some of our children do not care for Spams, but I find them to be just as delicious as Lila believes them to be! Do you have any favorite Spam recipes? If so, please share in the comments!